Doctor & Staff
Meet the experienced and friendly doctor and staff who make Azzue Optometry the leading provider of vision care products and services in New Port Richey.
---
Vincent B. Azzue, O.D.
Vincent B. Azzue is a Florida Board-Certified Optometric Physician who provides comprehensive eye examinations for the entire family. His areas of expertise include family vision, contact lenses and co-management of LASIK and Cataract Surgery.
Dr. Azzue can diagnosis and treat Glaucoma and Ocular Disease.
Dr. Azzue grew up in Up-State New York and moved to Florida in 1987. He received his Bachelors of Arts, Major in Biology from St. Leo University and attended Nova Southeastern University in South Florida where he graduated with his Doctor of Optometry degree, Beta Sigma Kappa Honor Society. Dr. Azzue finished his externship at Bay Pines VA in St. Petersburg, Florida. Dr. Azzue has been practicing in New Port Richey since 1995. Dr. Azzue prides himself to his patients on his 24 hour availability for ocular emergencies.
Dr. Azzue is an active member in the Florida Optomeric Association where he has been a past president for the local chapter Central Suncoast Optometric Physicians. He is a past member of Rotary International where he has given back to the community and donates his expertise to people in need through The Good Samaritan Medical Clinic.
---
Deana
Deana relocated here to Florida with her husband, Dr. Vincent Azzue and her family in 1987. In 1992 she married her high school sweetheart, Eventually relocating to New Port Richey in 1995. She then started her family and opened Azzue Optometry with her husband. She stayed home for many years raising her boys. In 2008 she decided to pursue a career in Early Childhood Education and Received her National CDA. She worked at St. Thomas Aquinas Preschool for 5 years, and now has come back to join the Azzue Optometry family.
---
Tara – Front Desk
Tara has been a Florida resident since 1991 originating from the Bronx New York. She started as a dental assistant right after high school, and continued that line of work for the next 11 years. in 1998 she met her husband, and changed careers. She went on to become an Early Learning Educator obtaining her CDA in 2011. She left teaching and became a member of The Azzue family in 2016. Tara has a wonderful husband and 2 beautiful children.
---
Brittany  – Optometric Technician
Brittany is an Optometric technician and has been with Azzue Optometry since 2020. She was born and raised here in Florida, graduating from high school in 2016, she also has an Associates in Arts Degree. She enjoys her job and helping people.
---
Linda – Billing
Linda moved to Florida in 1987. She has been doing Optometric billing since 1996. She joined the Azzue Optometry team in 2020. Linda is a mother of three and grandmother of six.
---
Tammy – Optician
Tammy has worked in the optical field since moving to Florida in 1981. She joined Azzue Optometry in 2020 and looks forward to helping our patients with all of their optical needs.
---
Todd – Optician
Todd is our Optical Manager , and has been in the optical industry since 1986. He is a Florida licensed optician and is board certified to fit contact lenses. He is the father of two boys and one girl, and a grandfather.
Tammy and Todd are looking forward to taking care of all of our patients optical needs.
---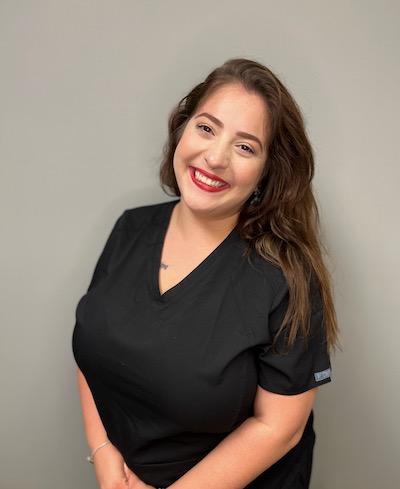 Shelby- Licensed Esthetician
Shelby has been a licensed esthetician who educates and performs skin care treatments. Her expertise is in medical skin care in advanced treatments. Shelby went to Esthetic school in Birmingham Alabama and completed 1,000 clock hours before going through the state board process. She then went to work at different plastic surgery practices, dermatology practices, and even taught at esthetic schools. She is so excited to be a part of the Azzue Optometry family and offer skin care treatments.